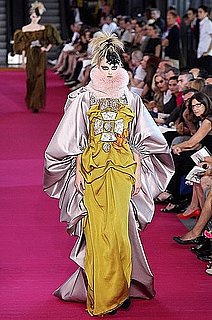 Spending New Years Eve at Studio 54 in 1978 kind of puts our plans to shame---WWD remembers the night Andre Leon Tally saved Diana Ross from falling on the dance floor. Love that guy. 
You might not be able to afford Marc Jacobs anymore but don't blame the little girl sitting across from you on the bus. Designer clothing for children--thanks to Phillip Lim Kids, Little Ella Moss, and Little Marc Jacobs--is a growing market indeed. 
Editors, buyers, and rich foreign women passing on the couture shows is like a smoker choosing a piece of cantaloupe over a cigarette. Healthy as it might be, it just doesn't seem right.
Prada "renovates" and proves to New York that the UES doesn't need all that Rem Koolhaus glitz and glam to sell handbags. Racked gets the inside shots.