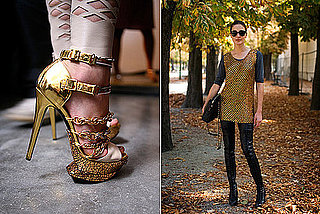 Refinery 29 put together a great round-up of the yellow-y gold we've been seeing on the streets--looks like Muiccia Prada, for the first time ever, was beaten to the punch. 
Bebe is testing out a concept store, called 2b, for young women who aspire to the bebe lifestyle. There's something about encouraging young women to dress like striving trophy wives that rubs us the wrong way. 
Fashionista makes a case for Caroline Kennedy--who has set her sights on the New York Senate seat soon to be departed by Hillary Clinton--and lets us know that this beauty once shaved off her eyebrow in an act of defiance.
Accessories, the full-priced standby in fashion has, like beauty, done the unthinkable and gone 50% off in response to the recession.