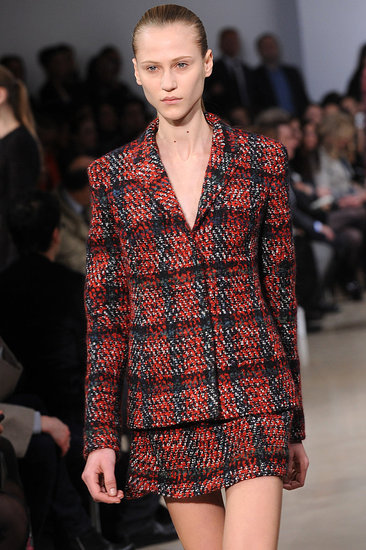 Feb 26 2010 - 3:20pm
>> The sounds of bombs dropping, bullets whizzing, and quotes from Lara Croft: Tomb Raider ("You don't think I'd go vaulting into thin air for nothing, do you?") punctuated the sci fi sountrack at Jil Sander today, with models criss-crossing the X-shaped runway in knit rompers and sharply tailored jumpsuits.  Every single one tromped around in black mid-calf flat boots, while sheer panels stretched down from their tweedy jackets and short slashes revealed themselves in an otherwise buttoned-up collection.
Raf Simons seems to have joined Marc Jacobs and Miuccia Prada in going archival this season — he pulled out the plaids that Jil Sander first used during the early '90s.  Another change for the designer: casting models of color — Joan Smalls, Rose Cordero, Sun Feifei, and Mengyao Ming Xi all populated the runway today. Brazilian sensation Alicia Kuczman, meanwhile, scored the exclusive.