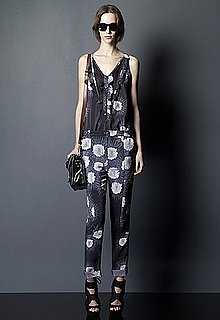 Jun 18 2009 - 12:10pm
>> This has been a week of firsts for Proenza Schouler.  They took home their first CFDA Accessory Designer of the Year award Monday, after which Jack McCollough was snapped licking Thakoon Panichgul; Lazaro Hernandez later quipped, "Yeah, we started the week off with a hangover, bad idea, and kind of throws off the whole thing!"  With A Magazine #9, out this week with Chloe Sevigny on the cover, they become the first American designer guest editors — Lazaro even photographed the Swarovski campaign inside.

And today, they present their first collection abroad in Florence — complete with performance artist Kalup Linzy's short film starring Chloe Sevigny and Liya Kebede (see here), because they felt they "needed to up the ante."  The Cruise 2010 collection includes bags with leather treated to look like herringbone canvas and was inspired by their recent trip to Tahiti: "When we finish a show we go away, and that trip usually winds up being the spark for the next season. Not directly — I think we try to avoid the places where the inspiration would be too on-the-surface, in fact."  They say they're staying to work in Italy, and then coming back to get ready for Spring 2010, so maybe some Italian influence will shine through next time around?