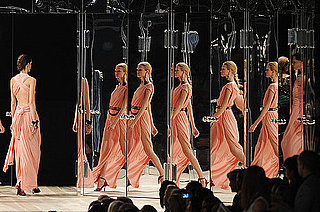 Sep 9 2008 - 12:45am
>> For the second season in a row, Marc Jacobs started his show promptly, just ten minutes after its scheduled start — only this time, half the attendees weren't locked out — everyone had learned their lesson. "Ladies and gentlemen, please take your seats. The show is about to begin."
Through swinging mirror doors, the models walked the mirror-lined runway from every direction, funhouse illusions abounding. But show tactics aside, with Marc, it always comes down to the clothes — the mashed-up, layered, bangled clothes, sparkling, plaided, and sheened. As Gershwin played in the background, Marc took us in a whole new direction — and he did it while wearing a skirt.
To get the full experience, check out the runway video at Elle.com.
*image: source