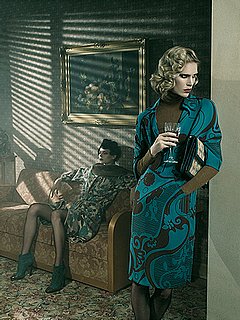 Jul 11 2008 - 5:00pm
>> Iselin Steiro may have put her modeling career on hold for a degree in architecture, but that doesn't mean she can't still nab a top campaign or two.  In fact, she's appearing in both the Mulberry and Missoni Fall campaigns.
For Missoni, Iselin joins goth girl Kinga Rajzak and Mathias Lauridsen in a set of images inspired by the Bernardo Bertolucci film, The Conformist, because the movie's visual patterns and textures fits well with the Missoni aesthetic.
The use of prints and color scheme in these ads are very in tune with Missoni's brand, but I'm not sure the sterile, stationary feel of the models is; Missoni always seems much more lively and dynamic than frigid to me.
*image: source