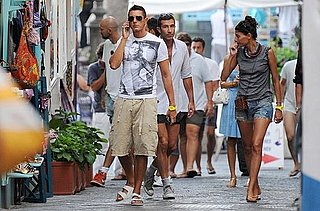 Aug 11 2009 - 12:20pm
>> Two weekends ago, Domenico Dolce and Stefano Gabbana docked their yacht in Capri to party with Naomi Campbell and her boyfriend Vladislav Doronin, and it appears that the fun hasn't stopped: On Sunday, they popped up in the Aeolian Islands of Italy with former house model — and current Vogue L'Uomo editor — Giovanna Battaglia and Vladimir Restoin-Roitfeld, where they did a little window shopping before stopping for lunch.  Giovanna has earned plenty of attention for her dressed-up Fashion Week-ready style — of which she told the New York Times:
I'm classic. I'm not a rock 'n' roll chick. And I like to mix old and new. I'll never wear a full look from a fashion show. It has to be personalized. Accessories have always been a big thing for me. I have 352 pairs of shoes. I'm not kidding. I have a wall filled with them, and then another for handbags. I never throw anything away. 
But as for vacation attire, it's all about denim cutoffs, and later, she strolled to the beach wearing a lace dress as coverup. 
*image: bauer-griffin online